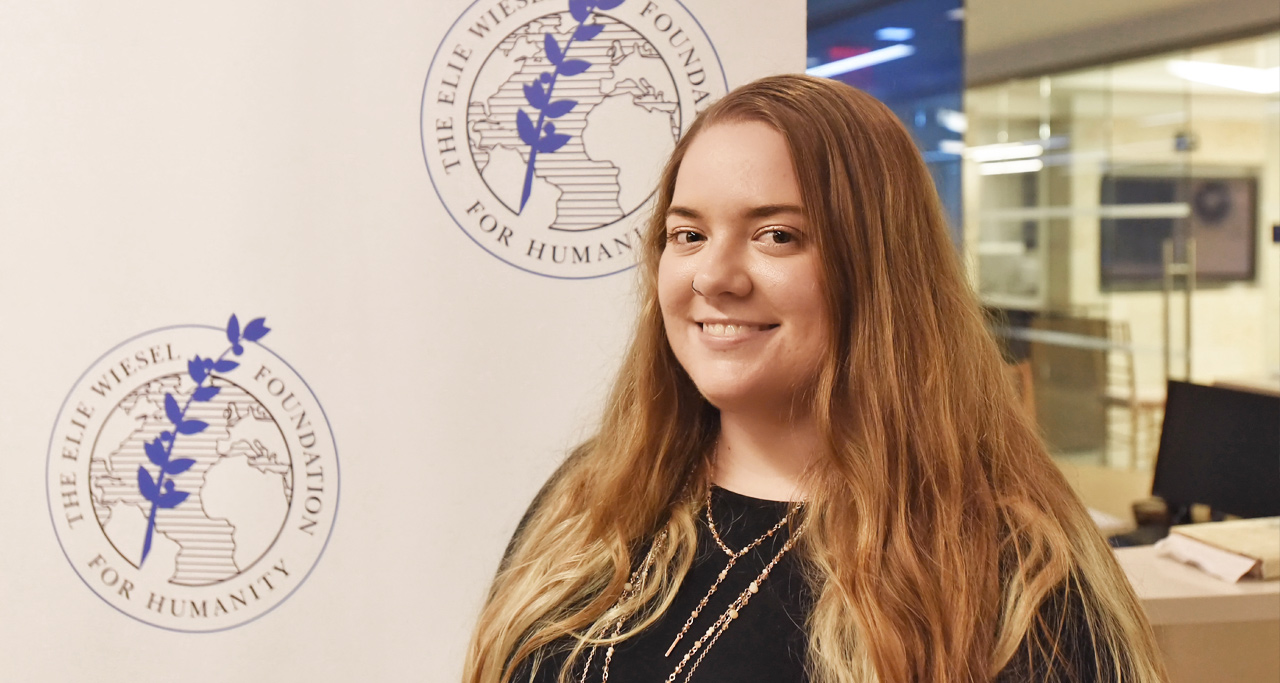 Sarah Hagerty '18 at the Elie Wiesel Foundation for Humanity in New York City
It was a photo of a young boy in the Warsaw ghetto hung unassumingly in the Eckerd College Library that got Sarah Hagerty '18 to ask herself a question she had never considered before: "Can someone ever truly know about things they did not experience?"
The resulting essay, "In the Absence of Memory," received second place in The Elie Wiesel Foundation Prize in Ethics Essay Contest, which came with a $2,500 award. At a ceremony in New York City on October 11, Sarah met Wiesel's widow, Marion, and son, Elisha, as she participated in the contest's annual awards workshop and dinner at LRN, a company devoted to educating on ethics and compliance led by Dov Seidman.
"It was an honor to place in the competition, especially because of the relationship the College had with Elie Wiesel," Sarah said.
Wiesel—the late author, humanitarian, scholar, 1986 Nobel Peace Prize winner and Holocaust survivor—was a visiting faculty member at Eckerd College for 24 winters.
Sarah, a literature graduate from Lakeland, Fla., initially wrote the essay for a class as she was preparing to tour Holocaust memory sites across Germany. "I became interested in issues that surrounded things that weren't documented and weren't archived. Things that we don't know about history that we'll never know about," she explained.
While at Eckerd, Sarah won an award for Excellence in Literature and also received the Cade Nabers Memorial Scholarship in Literature during her junior and senior years, according to Jared Stark, professor of literature and comparative literature.
Stark was especially proud of Sarah's achievement as the first person in Eckerd College history to place in the contest. "The contest is a national one. Only currently enrolled juniors and seniors are eligible, and each essay must be endorsed by a sponsoring faculty member, which means that the quality even of the initial submissions tends to be strong," Stark explained. "The essays are read by a jury of scholars, anonymously, and go through several rounds of elimination before winners are selected."
Sarah submitted in December of her senior year, found out she was a finalist in March and was notified of her second-place finish in June.
Carolyn Johnston, professor of American studies and history and the Elie Wiesel Professor of Humane Letters, has served on the contest jury for 20 years. "Elie Wiesel and I taught a course together every Winter Term for 24 years … I was thrilled to see Sarah win second this year. Reading the entries, I didn't know we had a student submitting," Johnston said. "Out of hundreds of submissions, Sarah won second, which is a tremendous honor."
Since graduation, Sarah has been working as a tutor at Polk State College and preparing to apply to graduate school. Originally a math major, she found her true passion for literature once she began classes at Eckerd.
"I visited Eckerd after I was accepted, and I really liked the overall atmosphere," she said. "I felt really good about the school from the beginning."
Now that she's started to ponder the implications of history, Sarah said she would like to delve further into "gaps" in record.
"[I want to explore] the responsibility we have to the state of memory and how to be an ethical student of history and what it means to study history but also be aware that history is crafted and created," Sarah said. "History can never tell you everything. But that is not an excuse to not learn what you can learn about something."
We had the privilege to host the '18 @eliewieselfdn Prize in #Ethics Essay Awards dinner at @LRN. I am both humbled & awed by the courage & conviction of the winners. The words & actions of Megan, Sarah, Jacob, Areeba & Ana inspire hope for the future. https://t.co/Bqz2aB9R25

— Dov Seidman (@DovSeidman) October 25, 2018