Visiting Assistant Professor of Marine Science
James Center for Molecular and Life Sciences 098
Degrees
Dalhousie University Interdisciplinary Studies, Ph.D.
Dalhousie University Marine Affair, M.M.M.
University of Havana Biology, B.Sc.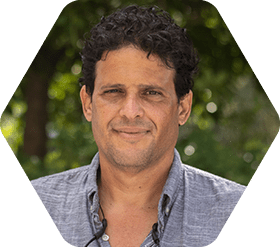 Research interests
Interdisciplinary research in the fields of marine science, ecology, conservation, and socioeconomics with a focus on:
Recreational fisheries
Management effectiveness of Marine Protected Areas
Coastal and marine resources conservation (living and non-living)
Collaborative research
Ecological economics
Community-based management
Courses taught
Biological Oceanography
Intro to the Oceans
Principles of Ecology
Tropical Marine Research in Cuba
Selected publications
MacNeil, M.A., Chapman, D.D., Heupel, M. et al. (2020) Global status and conservation potential of reef sharks. Nature. https://doi.org/10.1038/s41586-020-2519-y
Horta e Costa B, Angulo-Valdés J, Goncalves J.M.S, Barro P (2020) Assessing potential protection effects on commercial fish species in a Cuban MPA. Aquaculture and Fisheries, https://doi.org/10.1016/j.aaf.2020.04.001
McLarty MJ, GonzalezSocoloske D, Alvarez-Alemán A, Angulo-Valdés J (2019) Manatee habitat characterization using side-scan sonar. Journal of the Marine Biological Association of the United Kingdom 1–7. https://doi.org/10.1017/S0025315419000973
Rennert, J.J., Shenker, J.M., Angulo-Valdés, J., and Adams, A.J. (2019) Age, growth, and age at maturity of bonefish, Albula species among Cuban habitats. Environ Biol Fish 102: 253-265.
Hueter, R.E., Tyminski, J.P., Pina-Amargós, F., Morris, J.J., Ruiz-Abierno, A., Angulo-Valdés, J., López-Fernández, N. (2018) Movements of the silky shark (Carcharhinus falciformis) as tracked by satellite-linked tags off the Caribbean coast of Cuba. Bulletin of Marine Science. https://doi.org/10.5343/bms.2017.1162.
de la Guardia, E., Giménez-Hurtado, E., Defeo, O., Angulo-Valdes, J., Hernández-González, Z., Espinosa–Pantoja, L., Arias-González, J. E. (2018) Indicators of overfishing of snapper (Lutjanidae) populations on the southwest shelf of Cuba. Ocean and Coastal Management 153(1): 116-123.
Angulo-Valdes, J.; Navarro-Martinez, Z.; Lopez-Castaneda, L.; Frazer, T.; Adams, A. (2017) Collaborating on a New Vision for Cuba's Coastal Fisheries. Bonefish and Tarpon Journal. Fall 2017: 40-44.
Angulo-Valdes, J. 2017. Can ocean science bring Cuba and the United States together?  https://theconversation.com/can-ocean-science-bring-cuba-and-the-united-states-together-75369
Alvarez-Aleman, A., Angulo-Valdés, J., Garcia-Alfonso, E., Powell, J., Taylor, C. (2017) Occurrence of the Endangered Antillean manatee Trichechus manatus manatus in a marine protected area, Isla de la Juventud, Cuba. Oryx 51(2): 324-331.
Gerhartz-Abraham, A.; Fanning, L.M.; Angulo-Valdés, J. (2016) ICZM in Cuba: Challenges and opportunities in a changing economic context. Marine Policy 73: 69–76.
Angulo-Valdés, J. y B. Hatcher. (2013). A New Methodology for Assessing the Effectiveness of Marine Protected Areas. Revista de Investigaciones Marinas 33(1), 55‐70.
Angulo-Valdés J, Hatcher, B. (2010) A new typology of benefits derived from marine protected areas. Marine Policy 34: 635-644.
Fanning L, Mahon R, McConney P, Angulo-Valdés J, Burrows F, Chakalall B, Gil D, Haughton M, Heileman S, Martínez S, Ostinei L, Oviedo A, Parsons S, Phillips T, Santizo C, Simmons B and Toro C (2007) A large marine ecosystem governance framework. Marine Policy 31: 434-443.
Angulo-Valdés J (2007) Ecotourism and Marine Protected Areas: A Possible Synergy to Achieve the Sustainable Tourism Paradigm in the Insular Caribbean. Ocean Yearbook 21: 339-363.