As leaders in marine science education, Marine Science faculty and their students carry out cutting-edge research in coastal oceanography using cross-disciplinary approaches, spanning the core disciplines of biology, chemistry, geology and physics. Faculty collaborate with students on research projects, and in many cases, this work leads to publications in books and peer-reviewed journals as well as research presentations at national and regional conferences that are jointly authored by students and faculty.
Student research opportunities range from coastal geology, marine genetics, estuarine ecology to marine chemistry. The Marine Science First-Year Research Program offers unprecedented opportunities for qualified first-year students to work closely with a faculty mentor on various research projects.
Crab Recruitment in Tampa Bay
Students have studied the spatial and temporal patterns of larval crab recruitment in Tampa Bay to determine the effect of the lunar cycle and environmental factors on crab settlement.
Deepwater Horizon
Since 2013 several summer research participants assessed the impact of the Deepwater Horizon oil spill and dispersants on continental slope sediments and benthic communities in the northeast Gulf of Mexico that are critical to nearby fisheries and marine protected areas.
Dolphin Social and Population Structure
For more than 20 years, Eckerd students have studied the social and population structure of common bottlenose dolphins in Tampa Bay by using photo-identification and acoustic techniques as part of the Eckerd College Dolphin Project.
Shark Population Structure
Several students have used molecular techniques to investigate the population structure of Gulf of Mexico pipefish and bonnethead sharks. Dr. Szelistowski takes students to Bimini Biological Field Station for hands-on shark and ray research every year. View photos of Eckerd students at the Shark Lab.
On research vessel in the Gulf of Mexico, from left to right: Rebecca Larson '01, Katie Watson (USF), Shannon Hammaker '13, Patrick Schwing '06, Professor David Hastings and Haley Ramirez '15.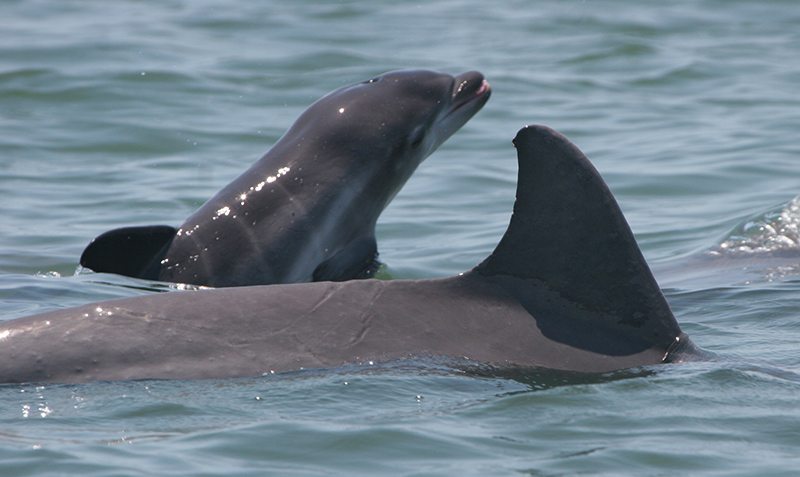 Calf and mother interact. Photo taken under the authority of NMFS LOC No. 15512.o.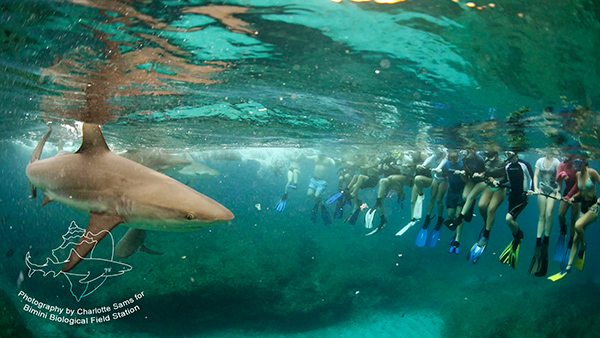 Students with Caribbean reef shark during spring break 2016. Photo: Charlotte Sams/Bimini Sharklab
Ample opportunity in the Tampa Bay region
Given the close proximity to the Gulf of Mexico and subtropical climate, the Tampa Bay region has a high concentration of marine research and academic institutions.
Because of many local connections in the Tampa Bay area, a large number of opportunities are available to our students through government and private marine agencies and laboratories, public aquaria, marine conservation institutions, environmental consulting firms, and commercial aquaculture firms. Many of our graduates have obtained positions with a wide range of organizations, often through contacts made while as a student intern.
The research opportunities are greatly expanded by four major oceanographic research facilities located in St. Petersburg.
These institutions provide research internships to Eckerd students, who are also welcome to use their libraries and attend their seminars.