Associate Professor of Marine Science & Biology
Galbraith Marine Science Laboratory (GMSL) 121
Education
Ph.D. Ecology, Evolution & Marine Biology; University of California, Santa Barbara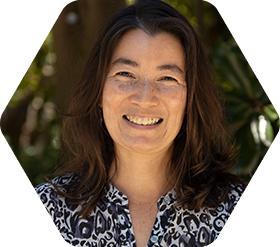 Courses Offered
Biological Oceanography
Marine Invertebrate Biology
Principles of Ecology
Parasitology
Estuaries
Natural History of Ecuador and Galapagos (field course)
Natural History and Culture of Micronesia (field course)
Ecology of Belize (field course)
Tropical Marine Environments, Roatan, Honduras (field course)
Research Interests
My research focuses on the spatial and temporal patterns of parasitism within and among host populations, and the mechanisms that determine these patterns. My research system involves a diverse guild of larval trematode parasitic castrators that utilize the snail, Cerithidea scalariformis, as their intermediate host. The distribution of these parasitic castrators in snail populations is strongly influenced by the distribution and abundance of wading birds and marsh mammals, which serve as final hosts. As primary mechanisms of parasite dispersal (on both local and regional spatial scales), final hosts create spatial heterogeneity of parasitism within snail populations. Further, the distribution of larval trematodes is also influenced by intraspecific competition among larval trematodes for snail hosts.
In collaboration with colleagues at the Smithsonian Institution, we have developed a long term (since 1993) data set to understand the role of parasitism on host population size and dynamics, testing the hypothesis that parasitism is density-dependent and therefore could regulate snail population size. In the near future, we expect to test for a relationship between snail density and parasitism among snail populations and years, and to determine how spatial heterogeneity (variation among sites) influences parasite community structure using mathematical models.
Selected Publications
Smith, N. F., and J. H. Cohen. 2012. Comparative photobehavior of marine cercariae with differing secondary host preferences. Biological Bulletin 222: 74-83.
Smith, N. F., C. Wilcox and J. Lessmann. 2009. Fiddler crab burrowing affects growth and production of the white mangrove (Laguncularia racemose) in a restored Florida coastal marsh. Marine Biology 156: 2255-2266.
Smith, N. F. 2007. Associations between shorebird abundance and parasites in the sand crab, Emerita analoga, along the California coast. Journal of Parasitology 93: 265-273.
Smith, N.F., G. M. Ruiz and S. A. Reed. 2007. Habitat and host specificity of trematode metacercariae in fiddler crabs from mangrove habitats in Florida. Journal of Parasitology 93: 999-1005.
Smith, N. F., and G. M. Ruiz. 2004. Phenotypic plasticity in the life history patterns of the mangrove snail, Cerithidea scalariformis. Marine Ecology Progress Series 284:195-209.
Nickol, B. B., R. W. Heard, and N. F. Smith. 2002. Acanthocephalans from crabs in the southeastern USA with the first intermediate hosts known for Arhythmorhynchus frassoni and Hexaglandula corynosoma. Journal of Parasitology 88:79-83.
Smith, N. F. 2001. Spatial heterogeneity in recruitment of larval trematodes to snail intermediate hosts.  Oecologia 127: 115-122.
Smith, N. F., K. B. Johnson and C. M. Young. 2001. Platyhelminthes. In: Atlas of Marine Invertebrate Larvae (C.M. Young, M. Sewell, M. Rice, editors). Academic Press, London.
Smith, N. F. 2001. Acanthocephala. In: Atlas of Marine Invertebrate Larvae (C. M. Young, M. Sewell, M. Rice, editors). Academic Press, London.