At the moment, Jacob Perlmutter's job is to make sure all the cans are neatly stacked and the labels are facing forward. He's in a small room at Northwest Presbyterian Church in Kenneth City, Florida, surrounded by little mountains of food—cans of tuna, corn, and spaghetti sauce; boxes of bananas, English muffins, and macaroni and cheese; and enough jars of peanut butter to make a thousand sandwiches.
A sign on the wall reads: "Because Food Makes Tomorrow Possible."
"I've been volunteering at food pantries since I was in elementary school in Ann Arbor, Michigan," says Jacob, a junior environmental studies and philosophy student at Eckerd College. "And yeah, I could've gone hiking or to the Cayman Islands with my friends over spring break. But food security is an important social issue, and I want to be part of the cure."
Jacob is part of the Office of Service Learning's Spring Break Service Program at Eckerd. Led by Ronald Porter '05, Ph.D., director of service learning, the program this year offers service opportunities focused on local issues: Keep Pinellas Beautiful; Bees, Trees and Oysters; two Hurricane Ian Relief trips to Fort Myers; and Jacob's project—Food Security, Migration and Partnership.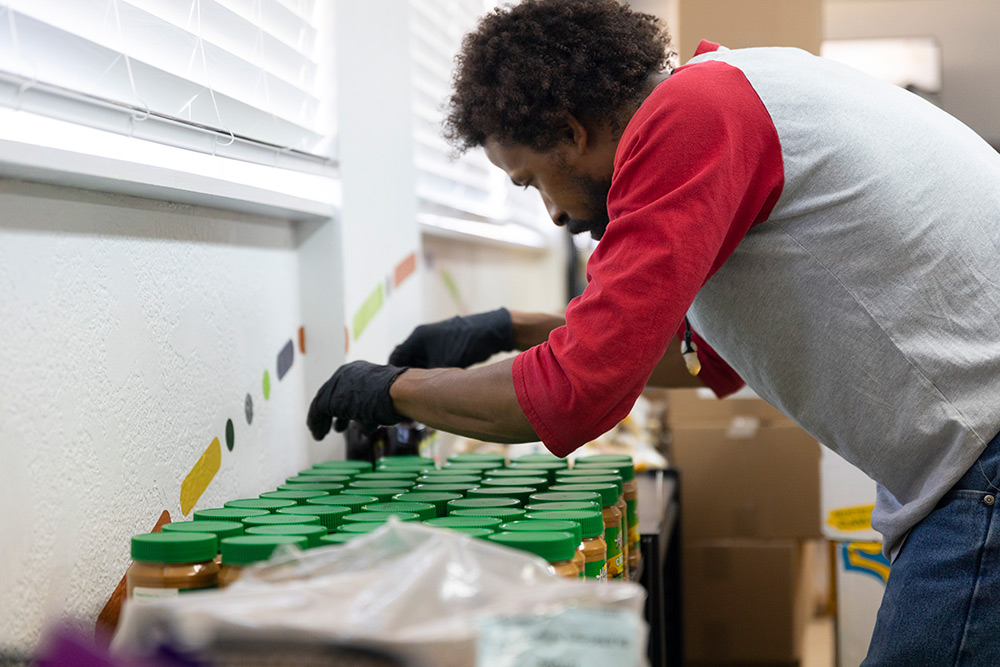 Ronald Porter '05 stacks food on the pantry shelves.
The food pantry at Northwest Presbyterian is part of the Feeding Pinellas Empowerment Center, an arm of Feeding Tampa Bay, a nonprofit that provides about 7 million free meals a week throughout 10 counties in Southwest Florida. According to the organization, about 1 in 8 people in the Tampa Bay region face hunger, as do about 1 in 6 children.
"We serve all different kinds of people," explains Antoine Everett, who came to Feeding Tampa Bay after 10 years in the military and now is a volunteer supervisor. "For instance, we have two-income families who've been working their whole lives, but someone gets hurt on the job, and now they're down to one income. It's not just certain people. It's anybody and everybody. Poverty does not discriminate. Hunger does not discriminate."
Much of the food at the pantry is donated by local grocery stores. "But we appreciate the smaller things as well," Everett says. "Like the students volunteering here. There are so many things you can do that help make you part of the solution."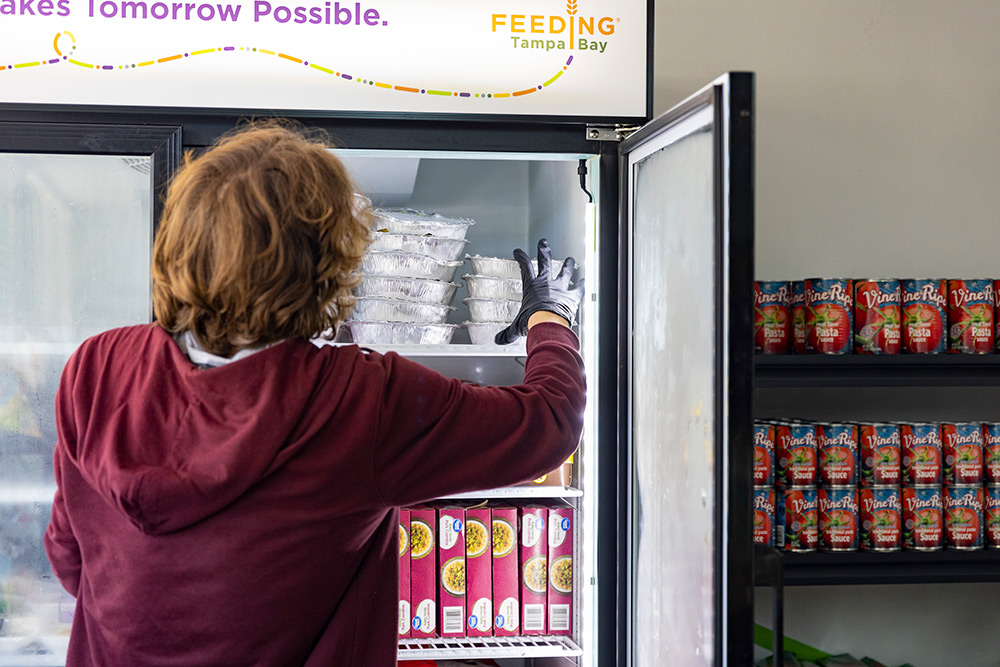 Junior Jude Hoekstra organizes refrigerated foods at the pantry.
While attending high school in Nashville, Tennessee, Jude Hoekstra did volunteer work in a kitchen at a homeless shelter. Now a junior computer science student at Eckerd, he says he also could have done something other than stacking cans over spring break, before classes resume March 27. "But it was a good experience in Nashville," he says, "and I'm just glad I can contribute again."
Porter, who earlier in March led an Eckerd service project to the Beth-El Farmworker Ministry in Wimauma, says he hopes both the nonprofits and the students gain something. "The organizations we work with really appreciate what we do and look forward to us coming back," he says. "And the work the students do balances what they learn in the classroom with real-world experiences.
"No, it's not glamorous," he adds. "But hopefully the students are getting an appreciation of the joy of giving back to the community."