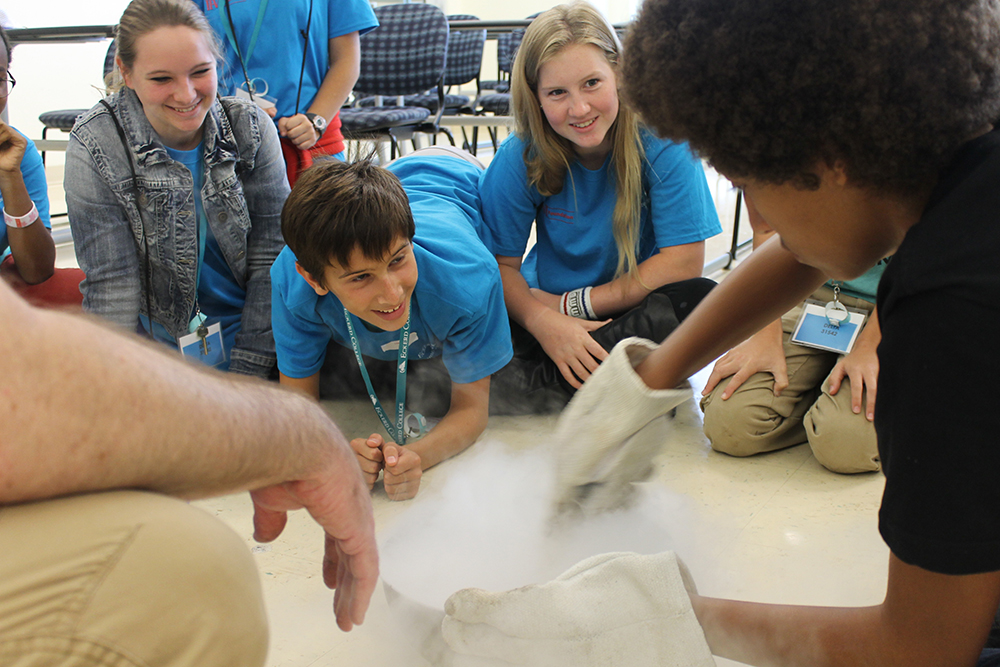 Summer Science Splash campers learn to make ice cream using liquid nitrogen.
Eckerd College's annual residential Summer Science Splash Camp—where local middle school students spend a week on campus conducting scientific experiments and learning about chemistry, physics, mathematics and other science-related subjects—was recently awarded a $7,000 grant by the Suncoast Credit Union Foundation.
The gift will help support scholarships for students who have financial need.
"Since its founding in 1990, the Suncoast Credit Union Foundation has raised and donated more than $32 million to organizations and initiatives that support the health, education and emotional well-being of children in the communities that the credit union serves," according to a statement from the credit union.
Summer Science Splash students spend their days in Eckerd's $25 million, state-of-the-art James Center for Molecular and Life Sciences performing a variety of science experiments with the latest equipment used by both college students and research scientists, according to Courtney Smith, Eckerd College's executive director of continuing education, conferences and summer school.
The students work closely with Eckerd science faculty, certified science teachers, and Eckerd students majoring in the sciences. They spend their evenings participating in games, watching movies, contributing to team activities and more. Between daily experiments and evening events, they work to gain points for prizes.
In its grant application, Eckerd notes, "Given that tuition for the weeklong residential camp is $650, scholarship support for local students with financial need is imperative to ensure that underserved students are able to attend. We will award Suncoast Credit Union scholarships to students from the Florida counties supported by the Foundation who demonstrate financial need as determined by free/reduced-lunch status and family circumstances which hinder the ability to pay full tuition."
With support from the II-VI Foundation, Eckerd has run a science camp for middle school students since 2012. Each summer, 140 rising seventh through ninth graders, about half of whom are female, perform a variety of science experiments under the direction of Anne Cox, Ph.D., professor of physics at Eckerd and the 2021 recipient of the American Association of Physics Teachers' David Halliday and Robert Resnick Award for Excellence in Undergraduate Physics Teaching.
"The camp offers an opportunity to increase interest in STEM careers at a critical stage in students' academic journeys," Eckerd notes in its application.
"The aim of the camp is to promote interest and enthusiasm in science through hands-on activities. Since its inception, the camp has engaged more than 1,000 students in lab activities based on best practices of science education. The campers learn new science concepts and have a more positive attitude about science as a result of the experience."
In 2019—because of the pandemic, the most recent year of the camp—the theme was The Summer of the Electron. Students learned about static electricity, dynamic electricity and magnetism, and applied these ideas by exploring motors, batteries, data storage and computer interfacing. Student activities ranged from wiring microcontrollers to soldering and building their own tablet/smartphone stylus.
In addition to testing their scientific understanding, students are surveyed on their attitudes and interest in a future career in science. The response to the camp has been uniformly positive. The 2019 survey results reveal that a vast majority of students (over 80%) believe the camp positively impacted their view of science; 68% expressed increased interest in a science career.
"Scholarship amounts will be determined on a case-by-case basis, based on an application question regarding free/reduced lunch and a free response for parents to explain financial circumstances that prevent them from paying full tuition (e.g., multiple children in the household, family members with disabilities or health issues)," the application notes. "This increased scholarship support aligns with Eckerd's strategic priority to provide underserved students across our region the chance to experience college life during summer residential programs."
This year, the camp will have two sessions—June 19–24 and June 26–July 1. Among the Eckerd faculty participating, along with Cox, are Paul Fratiello, physics shop supervisor; Steve Weppner, Ph.D., professor of physics; Chris Schnabel, Ph.D., associate professor of chemistry; Jalisa Ferguson, Ph.D., assistant professor of chemistry; Bjoern Muetzel, Ph.D., assistant professor of mathematics; and Erin Griesenauer, Ph.D., assistant professor of mathematics.
For information about the camp, go to Summer Science Splash.