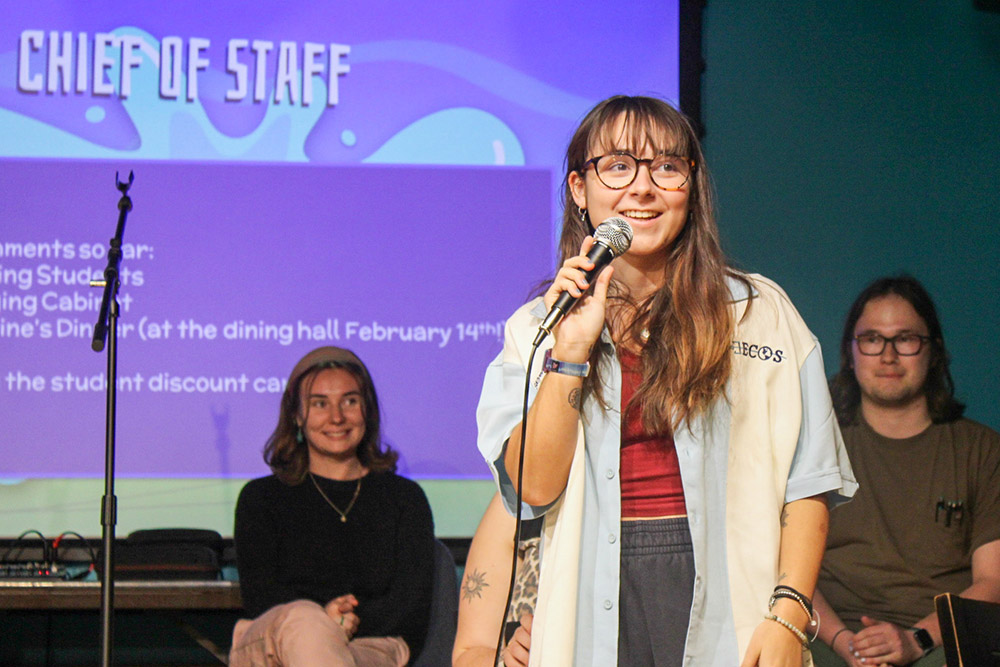 ECOS Chief of Staff Skyler Gionfriddo announces a program she developed with local businesses to offer discounts to Eckerd students in the St. Petersburg community. Photos by Kayla Davis '23
Passionate student leaders have been working for months on enhancements to the quality of life on campus. "Events like this are so important because [they invite] students in to see the intricacies of administration," said ECOS President Christyna Reagan in the opening of her speech.
The senior political science and women's and gender studies student from Concord, North Carolina also highlighted several new initiatives including expanding accessibility. A new, wheelchair-accessible picnic table has been installed in the academic quad, and another will be installed in a few weeks.
Reagan says students have expressed that they'd like to see more effort to make our campus accessible, so these tables are a really important addition.
Vice president of Student Engagement Michael Jerome, a junior chemistry student from Annapolis, Maryland, says he is passionate about bridging the gap between students and student-athletes. Under his leadership, ECOS has been sponsoring tailgates before sporting events throughout the semester. These events offer burgers and hotdogs to students, open beverage service to those over 21, teal foam fingers and various yard games. Last semester, tailgates resulted in higher rates of attendance at sporting events. Michael says later this semester there are plans for a Wimbledon-themed tennis tournament.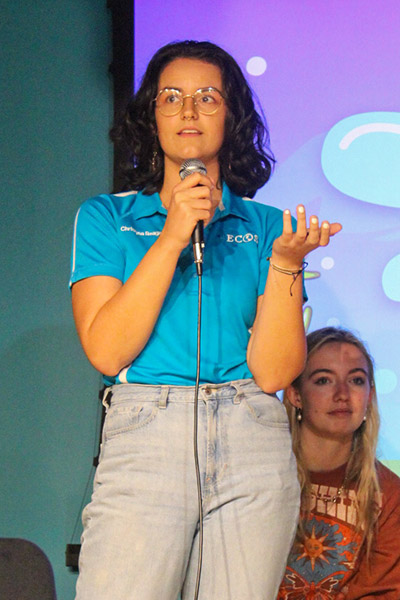 ECOS President Christyna Reagan addresses the audience in Triton's Pub.
Chief of Staff Skyler Gionfriddo announced a Student Discount Card Program where she worked with local businesses to compile a list of those that offer discounts to Eckerd students in an effort to encourage students to engage with the St. Petersburg community. Skyler, a junior animal studies and psychology student from East Greenville, Pennsylvania, says college students love a good discount, and collaborating with local businesses is a great way to further the "Think Outside" philosophy of the Admission Office.
Eckerd traditions are a big part of student life—from Kappa Field Day to yellow bikes to going barefoot. These traditions include the entire student body.
Madi Ryan, ECOS vice president of academic affairs, says ECOS is committed to helping first-year students engage with Eckerd culture. She wants to find ways to help upperclass students pass down these traditions and foster relationships with first-year students.
ECOS exists to serve as a liaison between Eckerd students and administration. Their goals and accomplishments this semester demonstrate their commitment to the Eckerd community. Maddie Reifsteck, executive vice president at ECOS, mentioned that the Senate (consisting of one student representative from each residence hall complex) is nearly full for the first time in several years. She is excited to see more students using their voices to make change at Eckerd.
Julia Bennet, a junior human development student from Lakewood, Ohio, says she likes coming to events like this because of the behind-the-scenes perspective. As a member of the Hillel Board, she's excited to see more engagement with the cultural clubs on campus.