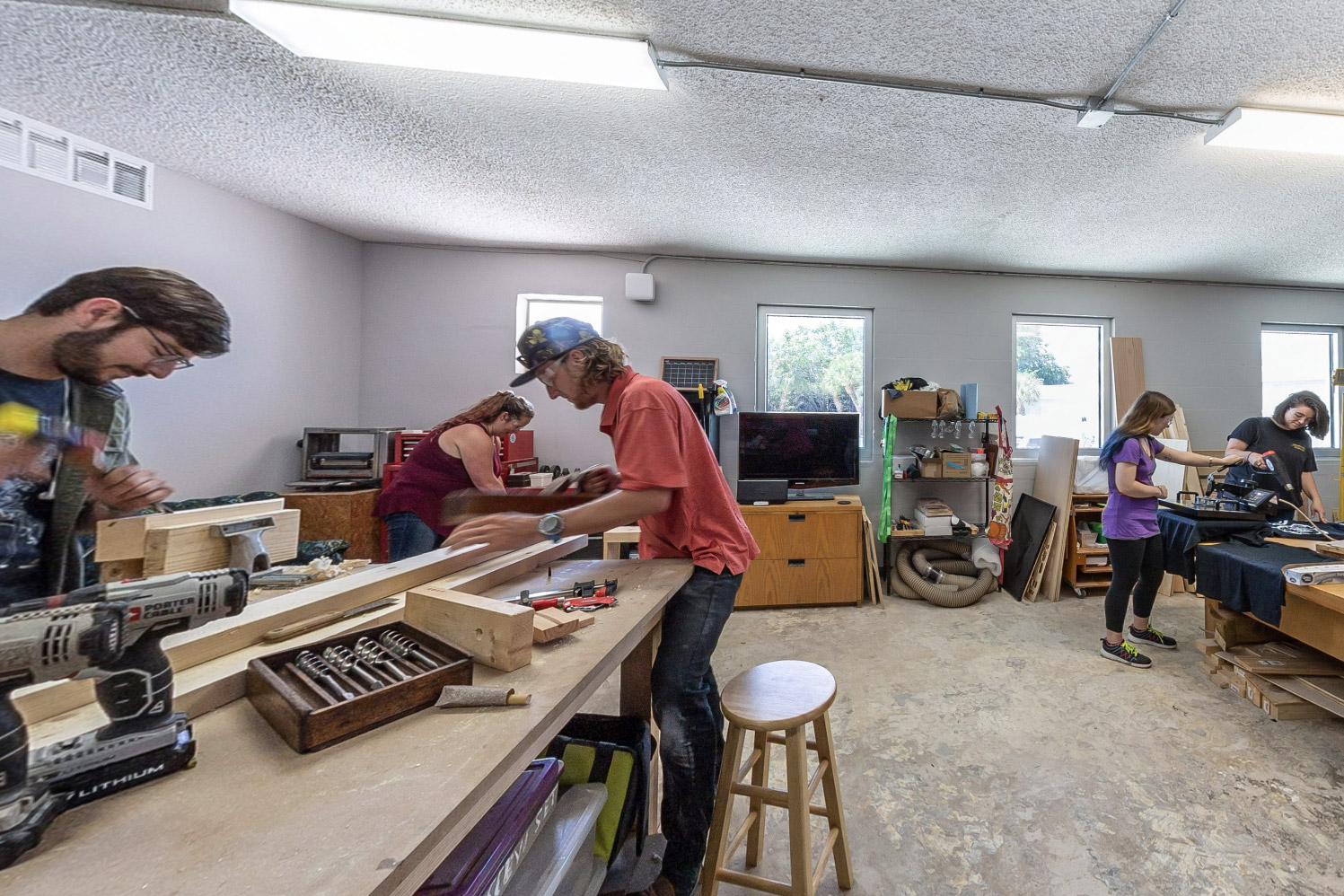 Students use various machines and tools in the MakerSpace on campus, located in a building adjacent to the pool.
Somewhere on Eckerd College's campus stands a model T. rex with the face of Dwayne "The Rock" Johnson.
It's just one of the joyous things Prakrut "PK" Patel created on the 3D printer after joining the College's MakerSpace club.
This summer, PK, a senior computer science and physics student from Mumbai, India, will spread that joy through a collaboration with Physics Professor Anne Cox, Ph.D., to turn a $53,000 grant from the Duke Energy Foundation into a mobile MakerSpace outfitted to serve elementary and middle school children across the county.
"In order to build powerful communities and ensure continued economic growth, it is important for us to invest in efforts that create and further STEM education in the communities we serve," says Melissa Seixas, Duke Energy's state president in Florida. "Duke Energy is proud to support the mobile MarkerSpace, an innovative program that will meet children right where they are to provide hands-on learning opportunities, resources and experiences that will ignite a lifelong passion for STEM and help students thrive later on in life."
To implement the program, Professor Cox recruited her student PK to create a simplified computer program for youth to translate their design ideas for an LED light into instructions for a laser cutter mounted in the back of a trailer. "They will be able to modify the shapes based on the parameters and type of design," PK points out. "It's really important for younger children to experience making things. They have to see their own talent firsthand to know they can work in STEM fields."
Cox concurs. When she was applying for the Duke Energy Foundation grant to create the mobile MakerSpace, it was with the hope of changing young minds before they ruled themselves unfit for academic careers in the sciences.
"The goal of this is for them to say, 'This is a possibility for me,'" Cox explains. "Middle school is where kids start to internalize that they are either a math person [or] not a math person. That fixed mentality of a 'math person' eliminates a lot of opportunities because it's something they can't see themselves as. We don't want that at any age. I want students to be open to possibilities."
With PK's software in hand, Cox will begin testing the program on the laser cutter with local middle schoolers at Eckerd College's Summer Science Splash Camp to refine the processes.
At least monthly starting in the fall, first-year students from Cox's Engineering a STEM Exhibit class will travel to elementary schools, middle schools or events populated with communities underrepresented in the sciences and guide children in grades four through seven through making their own LED lights from design to final build.
The trailer will contain a laser cutter and other common MakerSpace tools as well as art supplies. Physics Shop Supervisor Paul Fratiello will help outfit the mobile MakerSpace with a pop-out awning and storage for tables and chairs to help young makers create in comfort.
According to Duke Energy, creating powerful communities means powering the lives of its customers, and the vitality of the communities it serves, with more than $3.1 million in charitable grants each year through community-impact initiatives focused on K–12 education, nature, the workforce, and economic development.
To take full advantage of Duke Energy's support, Cox hopes to additionally staff the project with interns during the school year. PK won't be able to go out and assist, but he's looking forward to helping through code. "This is an excellent chance for me to get more professional experience," he says, "while doing something I believe in."