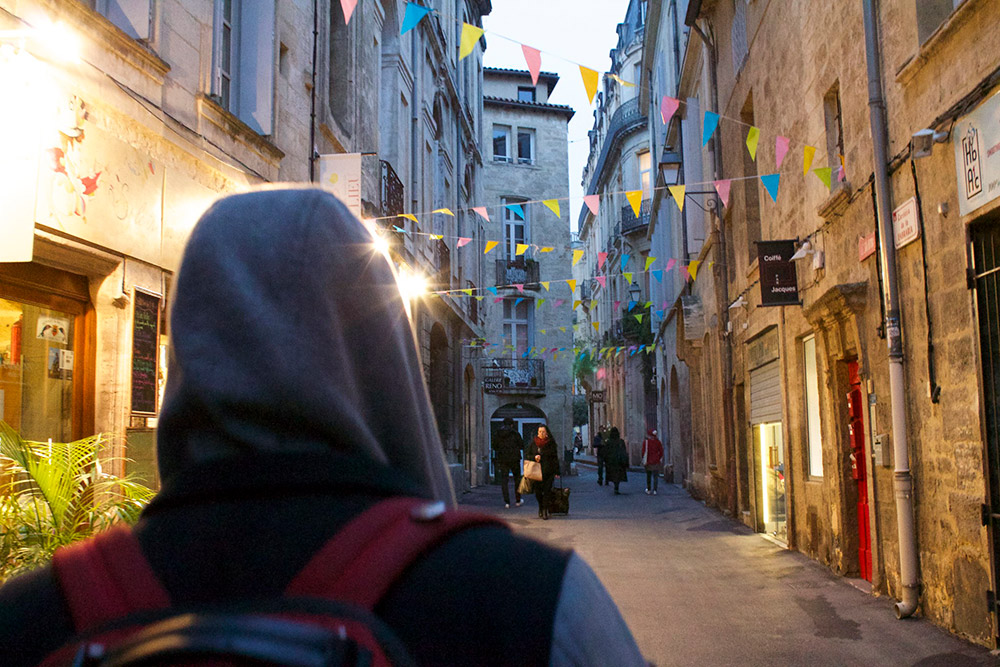 An Eckerd student ventures down a narrow street in Montpellier, France, during a language immersion trip. Photo by Maxx King '16
The locations are as different as the narrow brick streets of London's West End and the tropical rainforests and Mayan ruins of interior Belize.
For the first time since the pandemic shut down international travel in the spring of 2020, Eckerd College's Office of Global Education was able to again offer its Spring into Summer program.
And students jumped at the chance. About 125 Eckerd students will be studying abroad for several weeks between May and August, and because unused scholarship money was available due to the pandemic, all of this year's students received scholarships.
Students register for class as part of their Spring Semester and prepare for faculty-led trips that start at the end of that semester. This year's six Spring-into-Summer destinations include Portugal, England, France and Belize.
The Office of Global Education serves the academic program by helping to plan and facilitate faculty-led trips for Winter Term and Spring into Summer as well as semesters abroad at the College's London Study Centre and student-selected semester abroad programs around the world. The Study Abroad Program has grown to serve hundreds of students each year—including a record 446 travelers in 2019.
"When learning a new culture or seeing and talking with people from another culture, students realize the world is not necessarily what they read in a book or what someone told them," says Thandiwe Dinani, Ph.D., Eckerd College's associate dean of global education. Dinani has lived in Germany, Zimbabwe and England, and has visited many other countries.
"Students need those disrupting-the-norm kinds of things to help them pause and formulate their own individual perspective."
Dinani says that, nationally, about 3% of all college students travel abroad, and about 30%–35% of all liberal arts students travel abroad.
"There are multiple ways to learn," she adds. "Visit Hawaii, go on a [Native American] reservation, even parts of your own community. It's good because when those students return and talk about where they went, they can bring more depth to the classroom conversations. They won't be sharing just selfies. A rising tide lifts all boats, right?"
Kathryn Bastin, Ph.D., and Ashley Scheu, Ph.D., both assistant professors of French, are co-leading a Spring into Summer trip to Montpellier in the South of France with 19 Eckerd students. "We are so excited to offer this enriching cultural experience for our students in which they will learn about Southern French culture by attending French language immersion classes in the mornings, embark on cultural excursions in the afternoons and weekends, and live with French host families," Bastin explains.
"Cultural opportunities include crafting French pastries in a private baking workshop, exploring medieval Jewish baths, trekking through the prehistoric Clamouse Cave, and visiting a local winery for a wine tasting. We are absolutely thrilled to offer this unforgettable trip to our students."
At about the same time half a world away, Eckerd students will have an opportunity to experience Belize's tropical rainforests firsthand by hiking, ziplining and paddling along rivers to observe the diverse plants and wildlife, while staying at jungle ecolodges that have sustainable practices, explains trip leader Nancy Smith, Ph.D., associate professor of marine science and biology. "Following one week of rainforest exploration, students will explore coastal environments—including the Mesoamerican Barrier Reef, the second largest coral reef in the world, by snorkeling, kayak sailing and padding to better understand the complex biological interactions in mangrove, seagrass and reef environments.
"These adventures also include an opportunity to spend three nights on an island run by a Garifuna family as part of a homestay program to learn about traditional Belizean life," Smith adds.
"We will also visit small-town markets, Mayan villages and schools, and ancient Mayan cities to better understand their rich culture and history. We plan to participate in two service projects to contribute to the Belizean community."
The other Spring into Summer trips scheduled are Bears to Cats—London Theatre History, led by Associate Dean of Faculty and former Professor of Theatre Jessica Thonen; Marketing a New Global Venture (Portugal), led by Associate Professor of International Business Sandra Graҫa, DBA, and Assistant Professor of Finance Bob Jozkowski; London Street Markets: How Londoners Live, Buy and Sell, led by Professor of Management Frank Hamilton, Ph.D.; and History of Science (London), led by Professor of Biology Steve Denison, Ph.D.