Eckerd College is located directly on the water on the southern tip of Pinellas County, Florida. Students have easy access to a variety of habitats:
extensive mangroves abutting Tampa Bay
7 freshwater marshes, ponds
palm hammock (unique coastal forest of mostly palm trees)
pinelands
deciduous mesic forest (comprised of large live-oaks)
Nearby marine & coastal habitats
300m from the campus is Indian Key, a mangrove island and bird refuge where hundreds of birds nest and rest
<1 km away are several barrier islands where students can camp and conduct research
Tampa Bay and the Gulf of Mexico are both easily accessible from the campus boat launch
Several city, county, state and federal parks are within 30 miles of the campus. Classes take frequent field trips to these areas
Eckerd College Campus is home to many natural areas and a native garden in which the ecosystems of Florida's west coast can be tracked and studied as well as admired and enjoyed. Some examples include: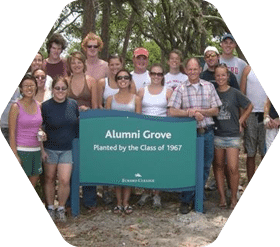 The Alumni Grove, a small forest of pine trees adjacent to the Forever Wild preserve, was planted by the class of 1967 upon their graduation. Today it holds a canopy of tall pines and several comfortable hammocks from which to enjoy the bird life in the nearby pond.
Palm Hammock Nature Area is a five acre coastal hardwood hammock on the western edge of campus. It contains a cabbage palmetto and live oak forest in various stages of succession. Five exotic eucalyptus trees provide snags frequented by hawks, osprey, and other large birds of prey.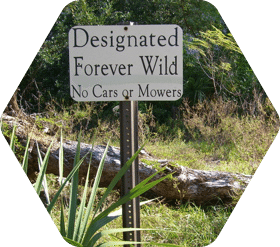 Native Plants Garden The Eckerd College Native Garden is planted and maintained by students, faculty and staff to showcase a Florida-friendly landscape that models xeriscaping and is also designed to attract butterflies. In 2005, Eckerd Environmental Studies major, Samantha Symon, received a National Wildlife Federation Campus Ecology Fellowship for her work developing an environmental literacy project
related to the garden.
Forever Wild is a strip of campus at the College's most eastern edge that has been designated "wild" and left in its natural state without human management.