Char McIntosh-DeCiancio '23 really wanted a pet snake back in high school, but her parents balked at caring for one once she went off to college.
The Tempe, Arizona, native took the challenge, and her research yielded Eckerd College as the top place where she could satisfy her fascination with marine biology and bring a snake to campus.
"I was a marine science major for like five days before switching over into biology," Char recalls. "Then I started taking animal studies classes. It was totally my vibe."
Animal studies became a major at Eckerd in Fall 2019, just as Char and the rest of the Class of 2023 arrived on campus. Nearly 50 of the 412 degrees conferred on May 21 were granted to animal studies majors—the first cohort of students with the opportunity to study the discipline all four years.
"One of the great things about having our first full class of graduating seniors is we have so many wonderful students who represent the program so well out the gate," says Erin Frick, Ph.D., an assistant professor of animal studies. "We have much to be proud of as their faculty."
Char never got her snake—she's vegan now and doesn't think she could stomach feeding time—but she gained so much more from choosing biology and animal studies at Eckerd. She took a Winter Term class in bioacoustics that perfectly prepared her for an interview that landed her first job with Mass Audubon as an acoustic shorebird monitor and restoration assistant.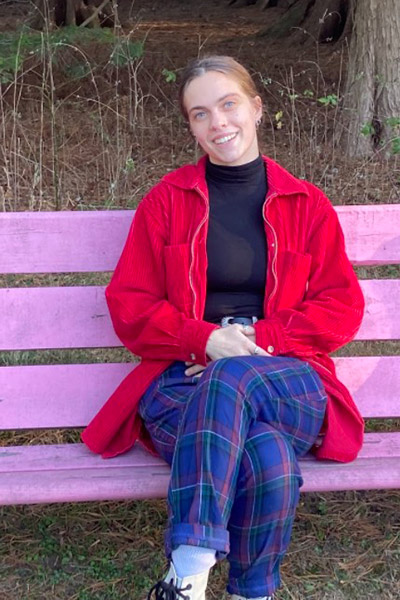 Char McIntosh-DeCiancio '23
She credits Eckerd's faculty and coursework with helping her be positioned to launch her career in animal conservation.
Both Marina Lourenco '23 and Dylan Davidoff '23 were certain they wanted to go to Eckerd, but neither could have predicted their paths would lead them to spending years studying the cognition of horseshoe crabs. Research opportunities are baked into the major: Each animal studies student must complete 130 hours of volunteer/internship work at an approved organization to complete the practicum graduation requirement.
Marina did one better and also completed an independent study at Gulf World Marine Park in Panama City, Florida. The animal studies and environmental studies graduate from West Windsor, New Jersey, will return to Gulf World this summer as an employee in the dolphin program.
"In the fall of my junior year, I drove to Sarasota to work in animal-assisted interventions," she explains. "I always wanted to be an EMT or first responder, but animal studies taught me I could do both—serving animals and humans at the same time."
Dylan is sticking with the crabs. She'll continue working on her research for publication in a scientific journal in her quest to become a professor of animal studies.
"I want to do graduate school to teach and do research and dive into that type of work," says the marine science and animal studies graduate from Severna Park, Maryland. "I learned so much in animal studies. [Some] of the best assets of the major are things you learn in the classroom. You use the practicum to see your progress to see how far you've come."
Since the discipline's first semester in 2019, the animal studies faculty has grown to include five professors and an instructor with decades of experience in research, teaching and other professional arenas—and some pretty cool connections.
Maddie Ketner '23, an animal studies and psychology grad from Greensboro, North Carolina, went from conducting research in the campus comparative psychology lab with Professor of Psychology and Animal Studies Lauren Highfill, Ph.D., to studying abroad in Vienna, Austria. The then–Ford Scholar also worked as a primate keeper at ZooTampa at Lowry Park before deciding to return to the research side of things to attend the University of Edinburgh in Scotland for a master's degree in applied animal behavior.
"I am very proud of the field," Maddie says. "I have gotten close to my classmates and I am happy for them and proud of them. We have grown and given animal studies a good name. We're doing a lot of amazing things."
Visiting Assistant Professor of Biology and Animal Studies Ray Ball, DVM, nurtured the drive to become a zoo veterinarian in Sean Jacobson '23 from the time Sean arrived on campus from San Diego, California. Along his four-year journey, he also got to intern at ZooTampa as a vet assistant intern, which solidified his goal. In the fall, he'll start his Doctor of Veterinary Medicine at Midwestern University College of Veterinary Medicine, a program that partners with the Phoenix Zoo.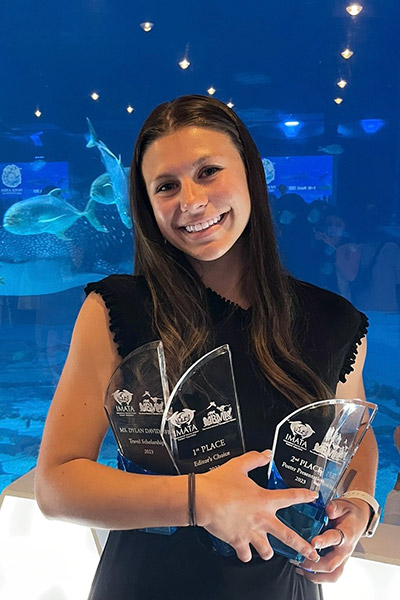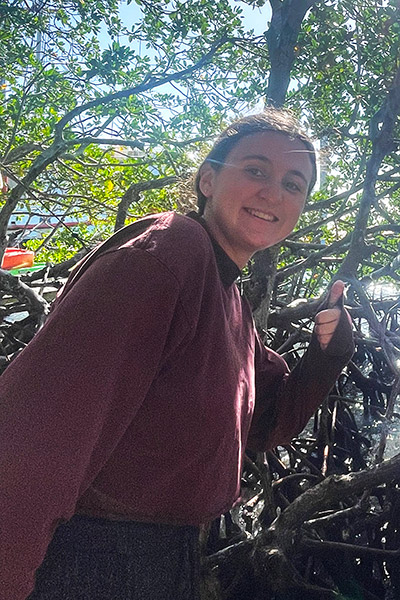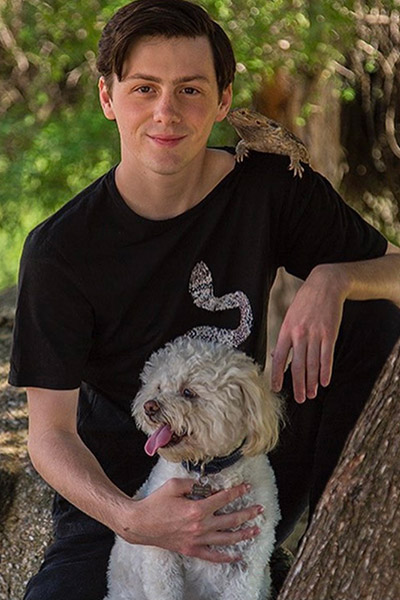 "Wanting to go into zoological medicine, I was looking at animal studies as a minor initially," Sean explains. "Learning about how zoos operate, and the conditions, turned out to be a good complement for the biology I was learning. The intricate inner workings allowed me to see how humans relate to animals, and that's important to the field."
Caroline Pahl '23 never really wanted to go to college but found Eckerd after family and friends urged her to pursue higher education. She gravitated toward studying animal and human interaction through courses with trained sociologist and Assistant Professor of Animal Studies Erin Kidder, Ph.D.
Caroline was "always thoughtfully engaged and has a keen ability to critically connect ideas discussed in class to society more broadly," Kidder says.
During her time at Eckerd, Caroline completed a summer internship with a small dog rescue in Portland; served as an executive assistant at Wildhearts Rescue and Born Again Pit Bull Rescue; did fundraising, social media, and prison-dog program management at Project POOCH; cared for sick and injured wildlife at the SPCA Tampa Bay; and provided care for dogs at the Humane Society of Pinellas.
"I am so glad that I had the opportunity to do this for all four years," says Caroline, a Lake Oswego, Oregon, native. "I came at a time while they were still figuring stuff out, and it just got better as time went on. Knowing there was a major specifically for animals sparked a match that ignited something in me. Where would I be if the major hadn't started? I feel really lucky that I came at the right time."