Professors Shannon Gowans (left) and Amy Siuda have been conducting grant-funded scientific research on microplastics in Tampa Bay and neighboring waters for several years; part of their work includes how to build awareness about the negative environmental impacts of plastic waste and encourage the public to reduce consumption. Photo: Angelique Herring '19
Marine science and biology faculty will work with app developers to design and launch a tool that allows consumers to track single-use plastic usage.
Digitizing accountability isn't new to consumers—cellphone applications help users track everything from calories to miles in the hopes of improving their lives. Eckerd College plans to use a $499,638 grant from the U.S. Environmental Protection Agency to help Pinellas County residents digitally track their single-use plastic consumption in the hopes of keeping waste out of the Gulf of Mexico.
The three-year grant will extend the work of the Reduce Single-Use project at Eckerd College, a NOAA-funded study spearheaded by Associate Professor of Marine Science Amy Siuda, Ph.D., and Professor of Marine Science and Biology Shannon Gowans, Ph.D. In conjunction with Eckerd's Office of Sustainability and student organizations, Reduce Single-Use studied on-campus consumption, provided students reusable items, created on-campus plastic-reduction challenges and offered workshops on creating alternatives to single-use plastic products. The result was data-informed institutional change that led Eckerd College's administration to sign the Break Free From Plastic Pledge in 2019, which barred College funds from being spent on nonessential single-use plastic items.
Throughout the student plastic-reduction challenges, participants indicated it would be easier if a tracking app were available. The team tapped Eckerd College Professor of Computer Science Kelly Debure, Ph.D., and her app-development students to create a beta model to be used at Eckerd and the University of North Florida for research purposes.
"We got a lot of feedback," Gowans says. "It was clear that the app was a fantastic tool to reduce plastic use, but also we were going to need to partner with a professional firm if we wanted to take this beyond campus."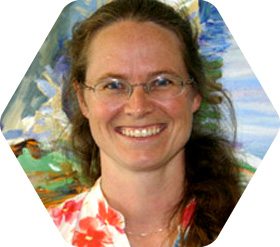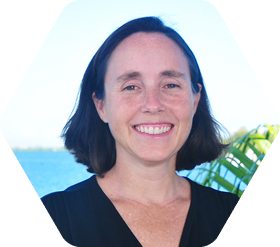 Associate Professor Amy Siuda
Community partners—including the City of St. Petersburg, Keep Pinellas Beautiful, Tampa Bay Estuary Program, Tampa Bay Watch, Suncoast Rise Above Plastics Coalition (SRAP), St. Pete Youth Farm, and Arts Conservatory for Teens (ACT)—will collaborate with the team to hold community engagement opportunities, promote the finished product, and drive users toward downloading and using the app.
"The City of St. Pete is proud of Eckerd College and our many community collaborators in their work to reduce waste, single-use plastics and litter," says Sharon Wright, the City's director of the Office of Sustainability & Resilience. "We look forward to this upcoming work to improve our beautiful natural environment."
Carrie Ruckdeschel, a spokesperson for SRAP, says that data speaks to policy change and that through data, organizations are able to educate the public and inform and influence policymakers—which leads to policy change. "We look forward to using the data collected from this app to further support the City's Waste Reduction commitment and influence other municipalities in our esteemed Florida ecosystem to create their own plastic-waste-reduction plans," she says.
Gowans and Siuda will hire four student interns who will work alongside Eckerd's Offices of Service-Learning and Marketing and Communications to launch the interdisciplinary program, which will tap into psychology, sociology, marketing and economics disciplines to produce data that could once again inform institutional change. Student involvement will extend beyond Eckerd's campus as well.
"It is critical for the Arts Conservatory for Teens to be an active participant in raising awareness by educating the greater community of the importance of each doing her/his/their part to make our planet Earth, [for] all its inhabitants, a safer/cleaner/healthier place to live, work and play," says Alex Harris, Ed.D., co-founder/CEO of ACT.
"Twenty years ago, people were very opposed to the role of science in advocacy," Siuda says. "Today it is very acceptable for scientists to share their expertise to make a difference. We see it in the work we do recording the volume of microplastics in Tampa Bay. We need to educate the public directly in order to prevent more microplastics from entering the waterway."
Gowans and Siuda team-taught Microplastics in Tampa Bay, a three-week course held in January during Eckerd's Winter Term, where students used the beta app daily to track their plastic consumption. "The data was really rich, and we had a lot of students looking at their results and saying that they had some work to do," Siuda says.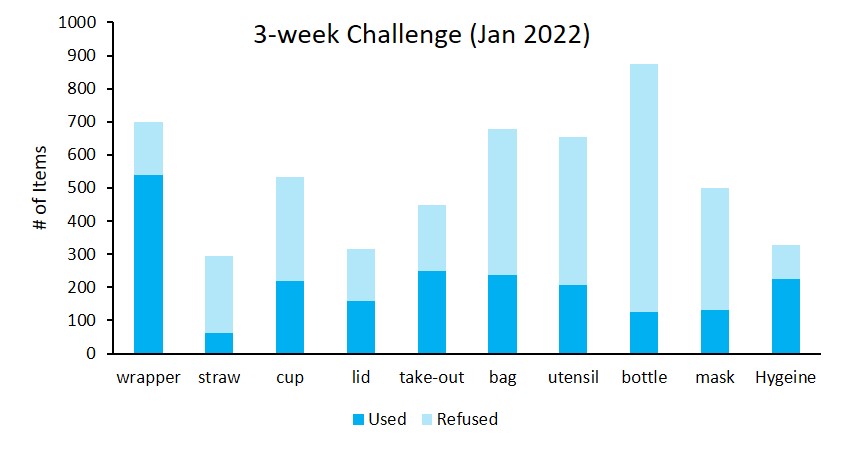 Sample data collected by the beta app shows the number of items students refused or used.
"There were definitely days of weakness and days that I had not been able to catalog, but overall, I am rather proud of the efforts I have made to cut disposable plastics out of my lifestyle," says Matt Blackett, a junior environmental studies student from St. Petersburg who took the microplastics course. "I was far more conscious of the lids and the sauce packaging and the plastic cups that I thought went into other plastic cups once I was done with them once I really began to document how many I had used per day."