Lane DeGregory, Pulitzer Prize–winning feature writer for the Tampa Bay Times, speaks to student writers from The Current. Photo by Penh Alicandro '22
Hallie Cowan, a senior animal studies student from Mine Hill, New Jersey, and Nicholas Hess, a junior marine science student from Glendale, California, captured first place in photography for "Coexisting with Apex Predators," a story that had appeared in the December 2022 edition of Cat. 5 magazine, which is produced by The Current staff.
And Leah Lentz, a sophomore creative writing student from Medford, New Jersey, who also is the opinion editor for The Current, won first place in the commentary category.
Other award winners were Kelli Alford '23, second place for commentary; Chloe Carter '23, third place for feature writing; Georgia Bobo '23, third place for sports writing; and Carter Weinhofer '23, third place for enterprise news writing.
Established in 1955, the FSNE has more than 70 members representing nearly all of the large and medium-size newspaper outlets throughout the state. The awards were divided into two categories: professional and (college) student.
For Leah, her columns were an extension of her life growing up. An early devotee of John Steinbeck, Agatha Christie, Ocean Vuong "and whatever is in The New York Times," she says her parents raised her to read constantly. But there was always time for laughter, especially with words.
In her opinion piece "How to park at Eckerd," a guide to securing a parking spot on campus, Leah laments losing an open spot to a double-parked BMW, and she concedes that parking at Eckerd can be "like doing the crossword drunk, high and upside down. Achievable, but just barely."
Her commentary "You should text him" is Leah's response to National Second Chance Month. "Worst-case scenario," she writes, "he doesn't respond, which could be considered a blessing in disguise as it creates a good enough reason to tell all your friends his worst qualities."
And in "How to stop the male guitarist epidemic," Leah insists that "no instrument has done more damage to the female psyche than the guitar." She proposes a test before a man can buy a guitar. Among the questions: "Why are you buying this, and are you going to play this while staring soulfully into the eyes of a female friend?" Which she calls "a form of torture men use against women because they think we enjoy trying to figure out what they're playing at. In truth, women do not enjoy being stared at. It's confusing and weird."
Leah adds that when people ask if she wrote a certain column, "My first thought is, Who's asking? But no, the award is great. You feel validated. You throw something at the wall, and you don't know whether people will connect to it.
"It's so gratifying to be given the opportunity to work on The Current and have the greatest group of students by my side supporting me," Leah says, adding that Janet Keeler, Ed.D., journalism and communication instructor as well as student-newspaper faculty adviser at Eckerd, "is my No. 1 supporter. She always pushes me to write what I'm thinking, and she's a great editor."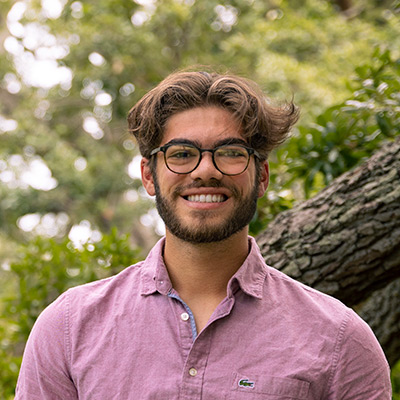 "Coming from an environmental studies and marine science background is what prompted the story," Carter says, adding that the theme of that edition of the magazine was life. "It seems overly broad, but there are so many different things that are related to life at Eckerd … not just the hard science [of sea level rise] but how life could be affected at Eckerd."
Carter graduated in May with high honors, was a member of Phi Beta Kappa, and double-majored in environmental studies and Spanish. In June, he landed his first full-time job in journalism, as a Longboat Key–based news reporter for the Observer Media Group.
"My time at The Current really gave me a great background in journalism," he says. "I started as a reporter and worked my way up."
The profession, he says, has never been more important. "And I think student journalists, especially in Florida, will play a crucial role in reporting stories regarding current events, the political landscape and environmental challenges."
Keeler, the food and travel editor at the Tampa Bay Times for more than 20 years before coming to Eckerd to teach, is both proud and excited for The Current staff. "We were up against some heavy-hitting, big-university journalism programs," she says, "and we held our own."
She says returning and new staff are gathering for a three-week journalism boot camp during Autumn Term this month—led by editor-in-chief Katya Tjahaja, a senior biology student from Jakarta, Indonesia. Along with providing training in basic journalism skills, a number of Tampa Bay–area journalists and communication specialists will lead sessions.
"The awards from FSNE mean a lot to the staff," Keeler adds. "But they also show the importance of the work of student journalists in the wake of reduction of coverage from struggling professional media outlets."