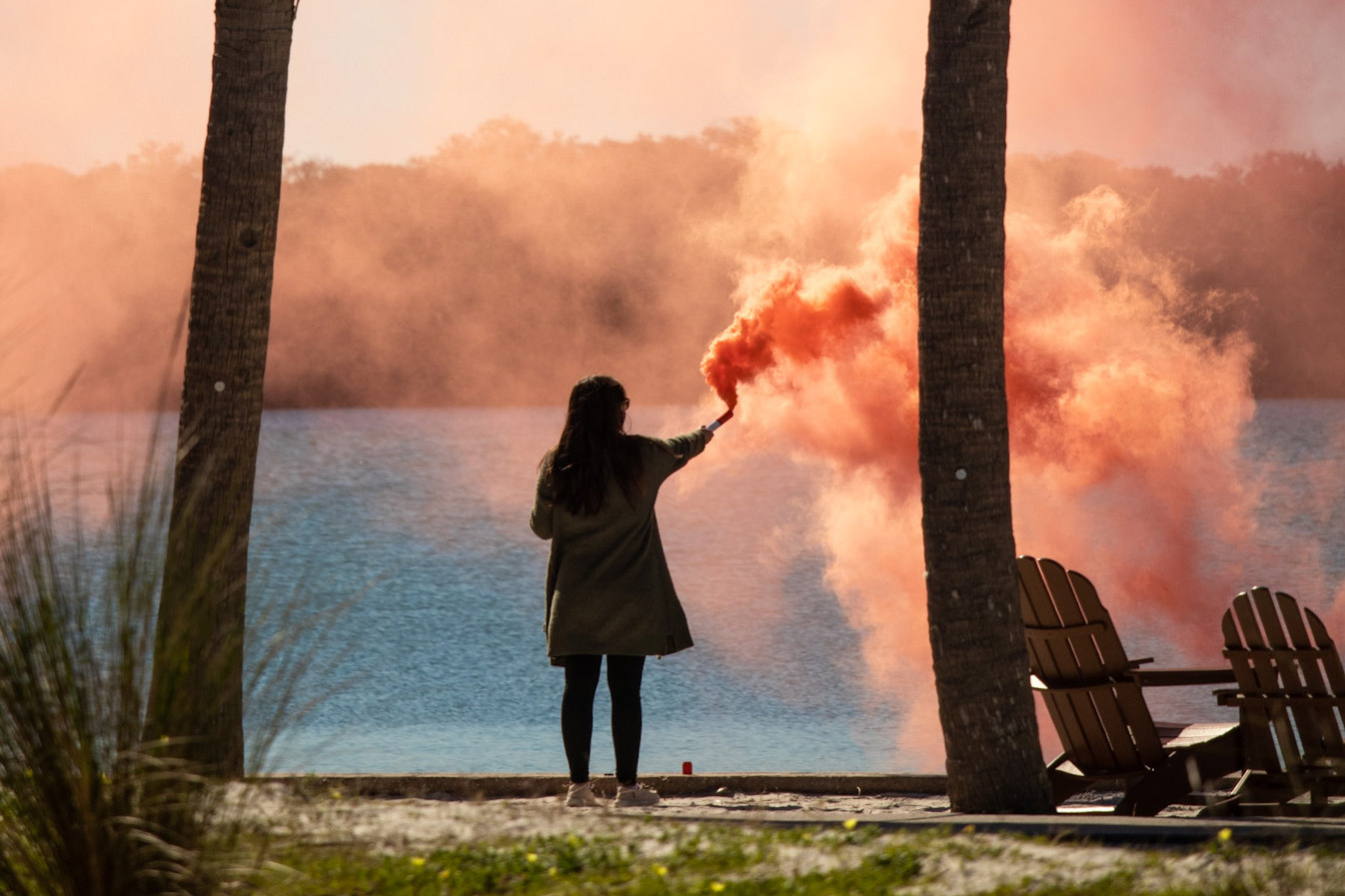 A student studying the science of seafaring learns how to handle an emergency flare. Photo: Angelique Herring '19
Laura Wetzel, Ph.D., professor of marine science and geosciences, had to turn students away after her Science of Seafaring Winter Term class quickly filled. The three-week course merges the history of ocean exploration, modern oceanography and meteorology with practical seafaring techniques—including weather forecasting, navigation and powerboat operations.
"Most days we're out on the boat," she says. "But there is also classwork. Today we talked about tides. Next week, currents. And there is homework." For their final project, the students have to describe a historic research ship, such as Charles Darwin's HMS Beagle, and how it advanced science and technology.
A January tradition at Eckerd that usually sends professors and students to study abroad, this year's Winter Term extends from Jan. 4 to Jan. 28 and will keep our global learners on home ground, safer from the pandemic and travel restrictions. But if there is an ideal place to think outside, this is it. There are no prerequisites, everyone can focus on a single topic, and students can fulfill an academic-area requirement.
There are 1,316 students enrolled in Winter Term courses this year, according to Eckerd College Registrar Laura Raymond. This includes 1,155 students participating in the 60 regular Winter Term courses; 139 students enrolled in their senior comprehensive exams, thesis or projects; and 22 students who are doing an independent study or internship. Of those 60 regular on-campus Winter Term courses, 32 are filled at or above capacity.
"Who wouldn't want to spend a month on a boat?" asks Sydney Horvat, one of Wetzel's students, an animal studies and biology senior from Gary, Indiana, whose Winter Term trip to New Mexico was canceled. "I'm happy the way things turned out."
Michael Hilton, Ph.D., assistant professor of computer science, is teaching Listening to the Heavens, a course that culminates with groups of students constructing a simple radio telescope that will be used to measure the rotation of the Milky Way. "For me, it's a lot of fun," Hilton says. "I get to teach something outside my normal venue, and for the kids, it's something very different from what they normally take. They respond very well because this is the only thing they have to focus on."
Common among the Winter Term courses, at least half of the students are studying a field unrelated to their major. "This year, none of my students are computer science majors," Hilton says. "I have only two science majors at all. It's the whole spectrum—animal studies to philosophy."
They are students like Grace Lukkes, a junior human development student from Denver, Colorado. "We constantly use visual demonstrations to explain a topic, which makes it incredibly fun and easy to learn," says Grace. "The class will help me better understand the world, galaxy and the universe we live in."
Laura Singleton, Ph.D., assistant professor of management, is teaching Starting Green Businesses. "For many students, it's a time for them to act out the Eckerd College mantra of "think outside" because they take courses that aren't necessarily in their wheelhouse. Typically about half the students have a business- or management-related major."
Ava McLeod—president of the Eckerd College Organization of Students (ECOS) and a junior marine science and French student from Wylie, Texas, who is taking Singleton's course—says she has no problem tackling a college-level course in a three-and-a-half-week time frame. "It seems like it would be an awful and disastrous idea," she says. "But for my class, I feel like it is the appropriate length. We aren't covering topics too quickly, especially because a lot of the material that we're learning overlaps. So I feel like taking this course in a three-week period avoids unnecessary repetition of materials, and it ensures that we are actually getting work done."
Here's a course to "Marvel" at: Anthropology of Superheroes, taught by Christopher Maier, Ph.D., visiting assistant professor of anthropology.
The course treats superheroes as cultural myths, Maier says, "and investigates what we can learn about culture by examining them. Examining the contexts that created superheroes, and how they have changed, will allow us to critically evaluate changing and current perspectives on topics like gender, race, class and justice.
"It's a discussion-based class," Maier adds. "I do a little bit of lecturing, then mostly it's small group discussions, and then we come together and we tackle the issues." Maier's class was capped at 20, but because demand was so high, he raised it to 25. "This is a good example of a course you wouldn't normally get elsewhere," he says, "and you don't have to go anywhere to take it."
"Winter Term is ideal for an experiential course," says Peter Hammerschmidt, Ph.D., professor of economics, who is teaching Negotiating Effectively this Winter Term. "The students practice effective negotiation behaviors while reducing the less effective behaviors. We videotape them role-playing real situations. And because I have the students every day, there's not much loss of learning from one day to the next."
Comedy and Laughter, a course taught by Cynthia Totten, Ph.D, professor of theatre, explores why we laugh; what happens to the body when we laugh; and what makes a character, an action or a situation funny. "The goal is to explore the principles of comedy and laughter and apply it to performance," Totten says. "Today the students did a silent movie scene to see the physical humor and sight gags, and to try to explore that physicality."
"I absolutely love the class because it's all about play and having fun with each other," says Soph Sawyer, a senior interdisciplinary arts student from Naples, Florida. "Dr. Totten is such an excellent professor because she establishes immediately that you can't possibly embarrass yourself with whatever you do. This gives everyone the opportunity to have fun in our scenes and exercises."